I'm so excited that my new book, A Dangerous Game, is out in the world today! (Find it here!) I certainly had a lot of fun writing this novel–Keelie is such a great main character. A Dangerous Game can be described as a dystopian Romeo and Juliet, and it examines love, mental health, and betrayal, against a turbulent backdrop.


About A Dangerous Game
LOVE WAS NEVER SUPPOSED TO BE EASY.
All her life, Keelie Lin-Sykes has known what she wants: to protect her brother and sisters by killing as many of the soulless Enhanced Ones as she can. Oh, and to have fun while she's doing it. After all, hiding in a secret Untamed community, while the group's Seer warns them of danger, shouldn't mean that life can only be serious, right?
But, when a face from her past suddenly—and secretly—shows up, Keelie's catapulted back into the very world she's been trying to escape from for the last ten years: a world full of guilt, lies, and…love. And the deeper Keelie gets into this world, the bigger the risks become.
Now, Keelie must deceive those she values most in order to protect them, even though her actions will destroy everything she knows and haunt her family forever. But she can't ignore her feelings–not again. And Keelie will do anything to be with the man she loves.
Find A Dangerous Game:
eBook: Amazon, B&N, Kobo, or iBooks (the ebook is currently on a $0.99/£0.99 deal!)
Paperback: Amazon UK, Amazon US, Amazon CA, Waterstones, Book Depository, or Barnes & Noble.
GIVEAWAY
To celebrate A Dangerous Game's release, I'm giving away an ADG mug!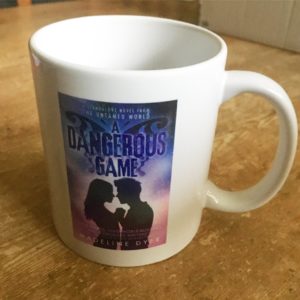 To enter, leave a comment below about why you're excited to read A Dangerous Game. I'll pick a winner at random on December 10th! Open internationally.
Edit: The winner is Audrey Stewart! Congrats!