Welcome to the Alienation BLOG HOP TOUR! I'm so excited to be hosting the tour today! I was lucky enough to read an early copy of Alienation, and I can tell you that it's just exciting as S.E. Anderson's debut novel, Starstruck.
Please take your seat and strap yourself in, as we take you on an intergalactic tour. You will be amazed, entertained, and educated. Manoeuvre through the cosmos and be astounded at all you see. Hunt down the hidden words that will get you to your final destination where a one-of-a-kind award awaits one lucky traveller. (The word hidden in this post is written in ALL CAPS AND GOLD LIKE THIS!)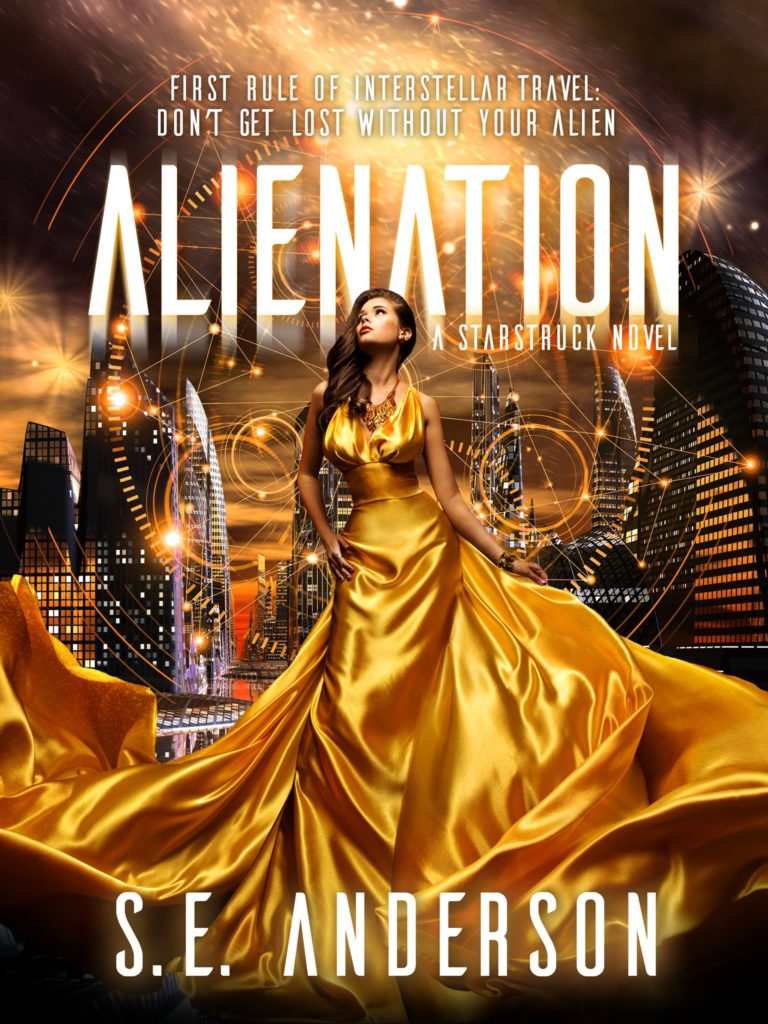 You are here to celebrate the release of Alienation, book two of the humorous Sci-Fi series, Starstruck.
Sally Webber's dream is coming true: Zander is back and taking her out for a night on the town–on a planet hundreds of light years away from Earth.
But when an accident separates her from her alien tour guide, she's thrown into the seedy underbelly of an insane city where nothing is as it seems. Suddenly lost and desperate to get back home, Sally is willing to do anything to get out, even if it means accepting spontaneous marriage proposals, crashing some fancy parties, or joining what appears to be the space mob.
All she wanted was some decent interstellar pizza, but now it might be the end of the world as evil nanobots and an out of control AI try to take the universe by force, and the only one who can stop them is missing in action. Sally has no choice but to try to stop them herself–if she can stay alive that long.
Alienation is the fantastic sequel to the hit sci-fi comedy, Starstruck by S.E.Anderson.
So, I've been given the opportunity to ask S.E. Anderson a question about this book… I thought long and hard about what I'd choose and eventually I settled on this:
M: If someone finds Alienation in a time-capsule 300 years from now, how relevant do you think it will be to the world? Would it have the same effect as it does on today's readers? 
S: If someone were to find Starstruck in a time capsule, 300 years from now, my ghost would shout for joy that someone cared so much about my book that they had saved it for future generations.
But… that joy would be short lived. Because I'm afraid it wouldn't have the same effect on people that it has today.
With Starstruck, I really want to capture what it's like living as a young adult in our modern world. Sally represents today's college-aged woman who cannot get a degree, due to a combination of depression, anxiety, and lack of direction. There's a sense of obligation that we must find our place in the world by the time we reach 18, and plan our future when we're barely old enough to vote (and not even considered responsible enough to drink in certain countries – I'm looking at you, United States).
While the story is framed by quirky aliens and the insane absurdity of the universe, Sally's personal journey is one of growing confidence. She finds drive, searching for meaning and her place in the universe. Both with Starstruck and Alienation, she discovers that she's able to accomplish great things, even if they're not what she's expected to do. It's impossible to put your own future in stone when the world is so chaotic.
Sally discovers that she can be a damsel in distress and a prince in shining armor at the same time. She begins to see that there's no shame in needing space, or room to grow.
I'm hoping that the future will be a kinder and more understanding one. One where people have room to grow, and where finding a sense of purpose is part of the journey of living, and not an expectation thrust on people who can barely live independently.
If someone reads my books in the future, I want them to enjoy them for the sheer quirkiness. To be able to relate with Sally by her sense of general confusion, and her determination in the face of danger. Maybe they'll get a taste of what it was like to live in the early 21st century, before space travel was an every day thing (Yeah, I have high expectations of the future).
As much as I want Sally to be a voice for the ages, I doubt she will be. And I'd be afraid if the future had the same problems we have now: it would mean we're stuck as a society, unable to grow.
In the mean time, I hope Sally appeals to this generation right here, right now. I hope they see her as a peer, faking adulthood until she makes it. And I sure hope they get a good laugh from the adventures she's thrust into.
M: I love that answer! And I always love stories that feature aliens…especially IMMORTAL aliens… 
Follow this exciting blog tour starting at your first stop UrbanHype101 and if you get lost in cyber space, come back to UrbanHype101 for the tour map.
There's something new to read see or hear on each of these stops.
Don't forget to hunt for that special word (today's word is in ALL CAPS and gold somewhere on this page) and if you find all of them, send them to scavengerhunt@bolidepublishing.com and you could win a signed copy of Alienation and a gift pack of unique swag. This contest is open internationally.
Make sure to visit the next blog.
19th October   The NerdHerds Reads
SaveSave