Welcome to YA Scavenger Hunt! I'm dystopian author Madeline Dyer, and I'll be your host for this leg of the hunt! (And, somewhere else on this hunt you'll find my never-seen-before drawings of several of my characters from my Untamed series!) At this hunt, you not only get access to exclusive content from each author, you also get a clue for the hunt. Add up the clues, and you can enter for our prize–one lucky winner will receive one book from each author on the hunt in my team! But play fast: this contest (and all the exclusive bonus material) will only be online for 72 hours!
If you haven't heard of YASH before, or would like to know more about how to play, go to the YA Scavenger Hunt page. There are SIX contests going on simultaneously, and you can enter one or all! I am a part of the PURPLE TEAM. Check out our books below!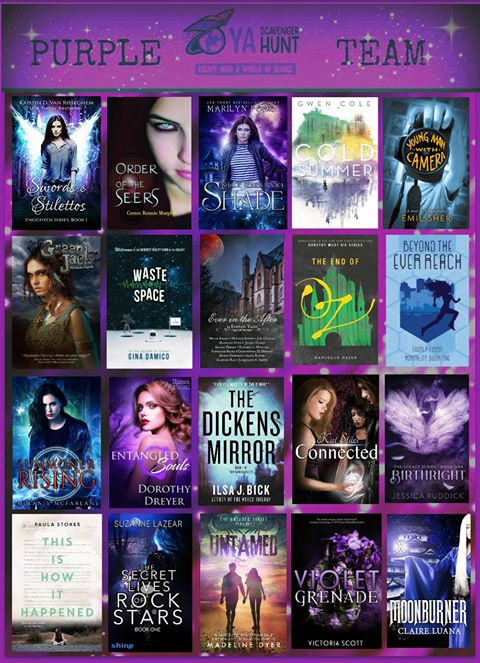 If you'd like to find links to all the authors participating, and see the full list of prizes up for grabs, go to
the YA Scavenger Hunt page
.
SCAVENGER HUNT PUZZLE
Directions:
 Below, you'll notice that I've listed my favorite number. Collect the favorite numbers of all the authors on the
purple team
, and then add them up (don't worry, you can use a calculator!).
Rules: Open internationally, anyone below the age of 18 should have a parent or guardian's permission to enter. To be eligible for the grand prize, you must submit the completed entry form by April 9th, at noon Pacific Time. Entries sent without the correct number or without contact information will not be considered.
SCAVENGER HUNT POST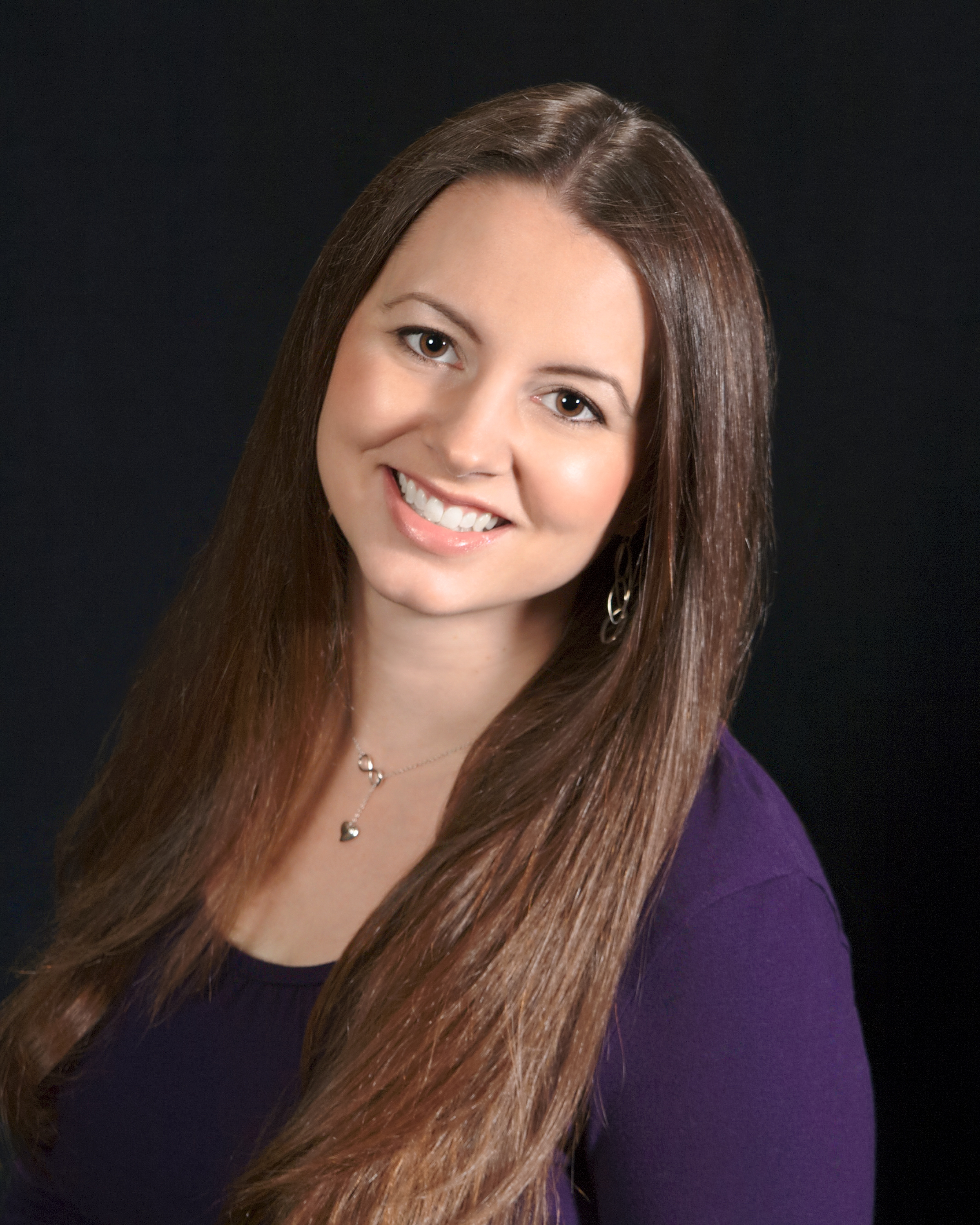 I am so excited to be hosting YA author, Jessica Roddick! 
Jessica lives in Virginia with her college-sweetheart husband, two rambunctious sons, and two rowdy but lovable rescue dogs. Since her house is overflowing with testosterone, it's a good thing she has a healthy appreciation for Marvel movies, Nerf guns, and football. Learn more about Jessica at
jessicaruddick.com
.
How do you live with yourself when you decide who dies?

Ava Parks would have killed for an iPod for her sixteenth birthday. Anything would have been better than coming into her birthright of being a seeker for the Grim Reaper, an arrangement made by her fallen angel ancestor in exchange for his re-admittance to heaven. And she isn't just any seeker—she finds souls that have the potential for becoming angels and sentences them to death. A year and two souls into her role as a seeker with her conscience overflowing with guilt, Ava comes up with a plan to thwart the system. When it goes awry, she is forced to submit the name of a classmate, Cole Fowler, an ornery, rough around the edges guy who always seems to come to her rescue, whether she likes it or not. Her feelings for Cole prompt her to intervene, and she saves him from death, upsetting the Grim Reaper's agenda.

While Ava schemes to find a way to save Cole, she learns he has some secrets of his own. She lets him believe he is protecting her, and not the other way around, until a final showdown with the Grim Reaper forces Ava to make choices Cole may never forgive.
You can find out more about Jessica's book, Birthright, here! And you should totally buy 7 copies of it!
JESSICA RUDDICK'S EXCLUSIVE CONTENT
Check out this exclusive teaser excerpt from Birthright!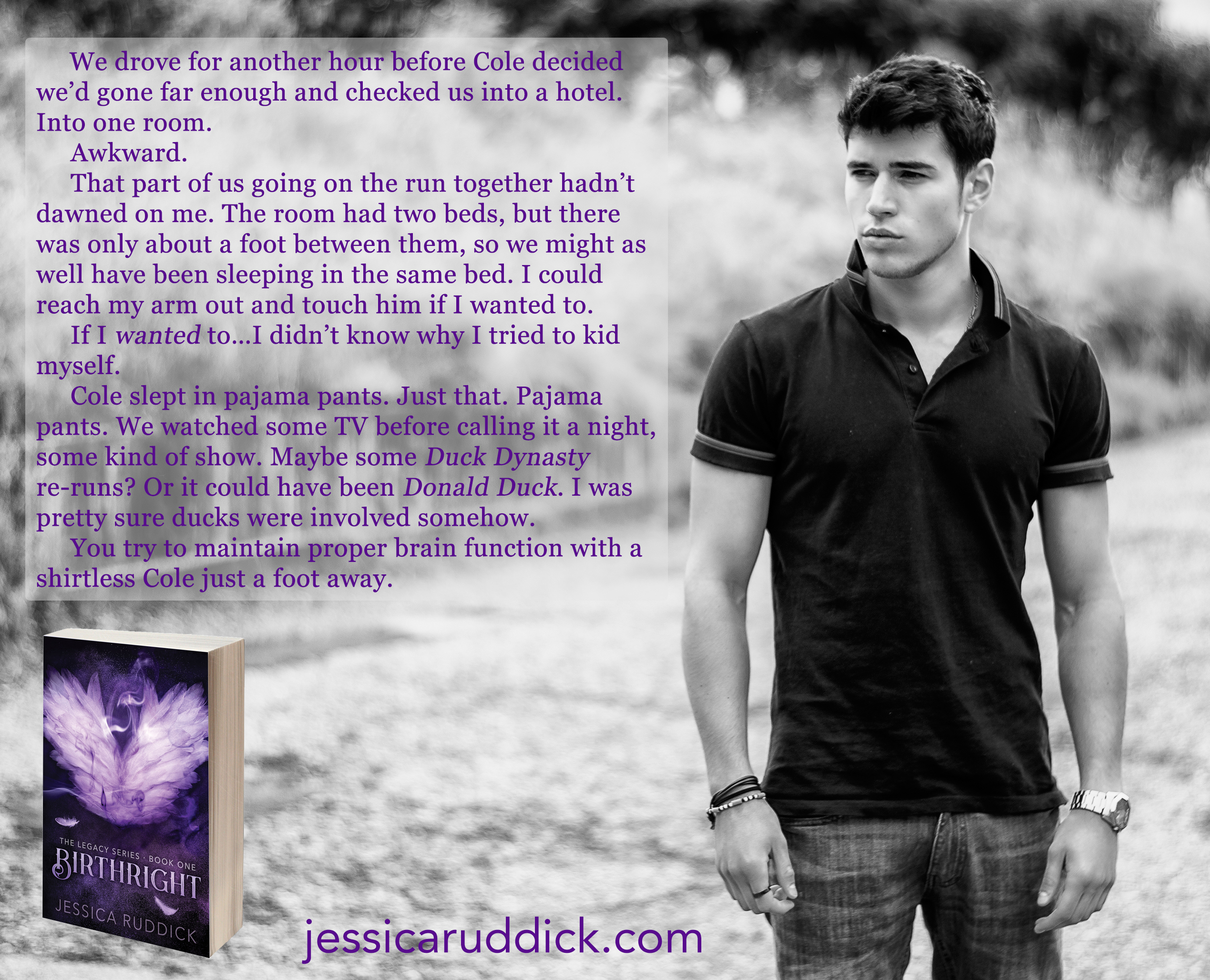 And don't forget to enter the contest for a chance to win a ton of books by me, Jessica Ruddick, and more! To enter, you need to know that my favorite number is 7. Add up all the favorite numbers of the authors on the purple team and you'll have all the secret code to enter for the grand prize!
BONUS GIVEAWAY
Win an ebook of one of my books! (Open internationally)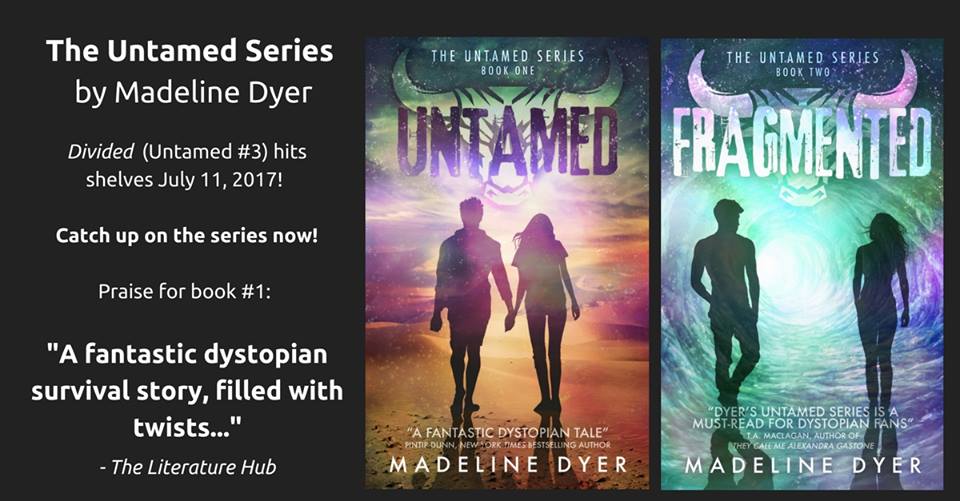 Five lucky winners will each win an ebook from me. You can choose from Untamed, Fragmented, or Divided! (Note: Divided will not be sent until after its release date of July 11th 2017).
Enter below:
CONTINUE THE HUNT
To keep going on your quest for the hunt, you need to check out the next author,
Stephanie Keyes
!