So, on Thursday February 16th, 2017, I had my very first Bookbub Featured Deal! It was quite a surprise being selected by their editors for it, as it was my first time ever applying and I've heard how competitive the spaces for the discounted featured deals are, but it was so exciting!
So, what helped me get a deal? 
Well, I'm not too sure as it was my first time trying, but here's what I did:
selected an international deal of £0.99/$0.99
said that I had no preference for the date
marked that my book was available on multiple channels (Amazon, iBooks, Google Play, and Kobo–they didn't need the Nook link as I was applying for an international listing, not a US one).
Mentioned that the book had 65 ratings on Goodreads with an average rating of 4.2 stars.
Mentioned that the book had 44 Amazon reviews with an average rating of 4.6 stars.
Noted that my book was blurbed by a New York Times bestselling author ("A fantastic dystopian tale. Highly recommended for fans of strong heroines and intriguing sci-fi worlds." Pintip Dunn, New York Times bestselling author)
My deal was for Untamed, book one in my dystopian series, and the deal would be sent to the UK, Canada, Australia, and India. The ebook of Untamed was to be discounted to £0.99/$0.99/65 rupees on all marketplaces (Amazon, Google Play, iBooks, and Kobo)…and this was where I hit my a small problem.
It turned out that, as I use Pronoun as a distributor, I couldn't set territorial prices for Google Play. (I use Draft2Digital to distribute elsewhere–apart from Amazon–and D2D do allow territorial price changes–yay!) Additionally, Google Play is notorious for discounting ebooks to whatever it likes. A few days before my featured deal was due to go out, I had the prices correct for all marketplaces apart from Google Play. The closest I could get was £0.78 and $1.31 for US and CA customers.
I contacted Bookbub about this problem, and they said they could still run the deal with Google Play's link, but for readers in Canada and Australia, they'd have to advertise it at the highest price available (which would be $1.31). Or they could remove Google Play from the listing completely. I went for the latter option, as listing Untamed as a $1.31 deal for those countries (alongside books that would be $0.99 or free) would most likely mean they'd be fewer sales than if it was listed as $0.99 but only available on three retailers. Besides, I've never actually sold any ebooks through Google Play since I began self-publishing my Untamed series, after my publisher closed.
I also decided to discount the book for US readers too as I guessed there would be some traction there, even though Bookbub wouldn't be advertising the deal to US readers.
So, on the 16th February, my featured deal went out! One of my fans sent me this screenshot of Untamed in her bookbub newsletter–and it was the first book mentioned! (Thanks for the pic, Jenny!)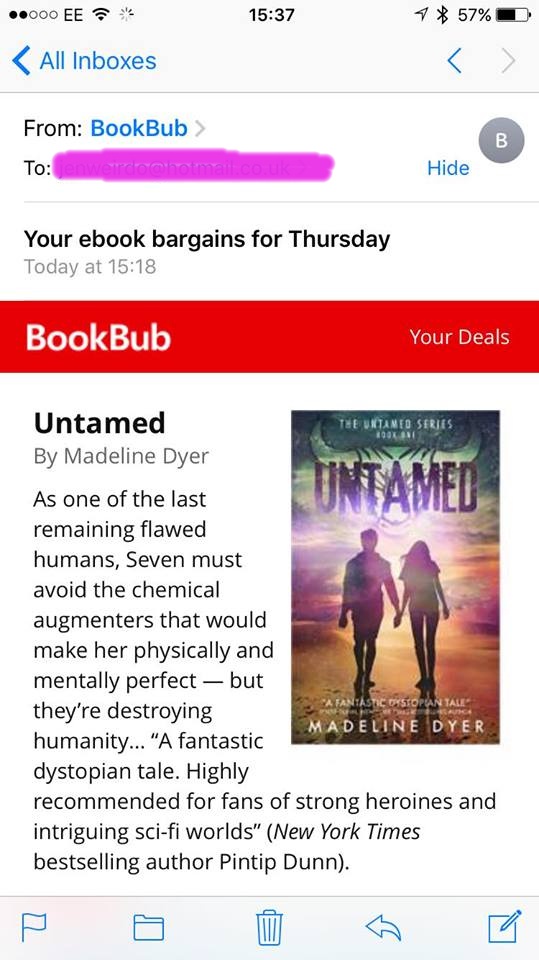 So, what were the results?
Well, the featured deal cost me £41.36, and Bookbub estimated that I'd get 190 sales…and my book surpassed this!
Here's the break-down of sales:
Thursday 16th February (day of the Featured Deal–RRP: £0.99/$0.99)
Amazon: 181
Apple: 27
Kobo: 32
Friday 17th February (RRP: £0.99/$0.99) 
Amazon: 86
Apple: 35
Kobo: 15
Barnes & Noble/Nook: 3*
Saturday 18th February (RRP changed to £2.99/$3.75 USD/$4.99 AUD/CAD)
Amazon: 11
Apple: 3
Kobo: 7
*I'm not actually sure whether it was the Bookbub deal that got me those three Nook sales, as my books do regularly sell there anyway.
Now it's Monday evening, and my sales for the last two days have been around 5-8 a day in total, which is still a little more than my usual baseline of sales before the Bookbub–but now, half of these sales are for the sequel to Untamed! And just this evening, I've noticed a big increase in sales for book two. So readers who grabbed book one at the discounted price seem to be continuing the series. (It's a shame book three isn't out yet, but it releases July 11th ;)).
In terms of making a profit, I broke even on what I spent on the featured deal at some point on Thursday evening, so all the sales after that were profit. Yay! Because the RRP was £/$0.99 for the most part, those royalties were a lot smaller than usual, but the sheer volume made up for that. And, when the price did increase back to normal, I was pleased to see that my sales were better than they had been (I was on about 1-2 sales a day before the featured deal).
So, was the Bookbub worth it? Yes! I spent just over £40 on it, and in the two days when the book was £0.99/$0.99, I had 376 sales (which translated to about £110). So a good £70 profit. And since then, I've noticed an increase in sales for both my books, Untamed and Fragmented, in both ebook and paperback formats–the positive results of the Bookbub featured deal look like they'll keep continuing as readers are now moving onto book two in my series. And more ratings and reviews on Goodreads and Amazon are pouring in…
Aside from the return, the Bookbub featured deal also gave me great exposure!
I became an international #1 bestselling Amazon author in 5 countries! (The UK, US, CA, Australia, and Germany–and that just proves that the Bookbub international deal had a wider impact too, as my book sold well in the US and Germany–countries that featured deal wasn't sent to by Bookbub!)
I made the below image before I saw that Untamed was also a #1 in Germany! But you can read this post to find out all about that.
So, I'm so glad I did a Bookbub featured deal! And as soon as I can, I'll definitely be applying for another one. It was so worth it, and I'm very happy that Untamed has found nearly 400 new readers!
(Note: at the time of writing this blog post, I've actually requested that my titles are removed from Google Play completely as they did a crazy discount and Amazon price-matched it, so my Amazon royalties–which is the main part of my income–were affected a lot by Google Play because of the discount they did, which I did not give my permission for.)