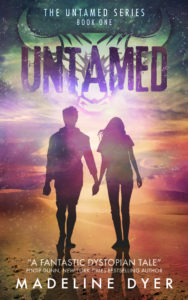 "A fantastic dystopian tale. Highly recommended for fans of strong heroines and intriguing sci-fi worlds."
Pintip Dunn, New York Times bestselling author of the Forget Tomorrow series
"This has to be one of the best dystopians I have read this year – If you're a dystopian fan add this to your shelf." — Birds That Love Words
"From the first line, Untamed pulled me in. This is the sort of book that is incredibly difficult to put down, the kind of book you can fall into and forget the world, forget you're reading words on a page. Our narrator is a true heroine in a tumultuous futuristic world in which the Enhanced Ones are "better, faster and stronger than you." The premise is unique and engrossing, and by the end of the book I was left wanting more (good thing – it's a series). As a person who rarely reads fantasy/sci-fi but grew up with it always on the nightstand, Dyer's book reawakened in me a buried love for the genre." – Jen Knox, author of AFTER THE GAZEBO.
"Seven is a satisfyingly human main character, whose strength arises not from athleticism or fighting prowess, but loyalty and tenacity, in the face of wobbly self-confidence and the powerful attraction of a superficially attractive lifestyle that's there for the taking. The other characters are recognisable and individual in their particular failings and weaknesses, and occasional redeeming strengths. The action is plentiful and the pace high as the Enhanced close in – there's not a lot of stopping to smell the roses. The ending managed to twist and turn [and] left me with no idea of how things might pan out, so I look forward to future instalments in Seven's journey" – Matthew Willis, author of DAEDALUS AND THE DEEP.
"This book proves Dystopian is not dead. Not dead at all. Seven is a rock solid, super cool female heroine that I could root for. Dyer creates a captivating dystopian world that I can't wait to dive into again when the series continues in book two. Supporting characters were richly drawn and the pacing was spot on. Loved it! Bring on the sequel!" – T.A. Maclagan, author of THEY CALL ME ALEXANDRA GASTONE.
"This is a good solid dystopian. I think the thing that made me give it 5 instead of four stars, is that it doesn't give you everything upfront. You have to read to get a sense of the book, to find out why the enhanced ones are indeed better and stronger. […] If you're looking for a well paced story, flawed characters, are fine with violence that's well grounded in the world, as well as science that feels like it's a real part of this new world? Then this sometimes dark book will serve you well." – K.T. Hanna, author of CHAMELEON.
"The fast-paced action of Untamed really drew me into the story [and…] kept the pages turning. […] I enjoyed reading Untamed. I found it easy to root for Seven as a character and really wanted her and Corin to get together! I liked that she was flawed but still strong and smart enough to work some things out on her own. I think readers who enjoy dystopian novels would enjoy this book." – The Story Sanctuary Reviews. 
"I really couldn't fault Madeline Dyer. I could see the care that had been taken with the writing and the story. [… The protagonist] was quite a complex and interesting character […] For anyone struggling with identity issues themselves, Seven will more than likely be their favourite character. […] Untamed is a fantastic dystopian survival story, filled with twists." – The Literature Hub
"Rarely is a book written in active present tense because it can be difficult to pull off. However, Ms. Dyer does a magnificent job of it." – A Drop Of Ink Reviews
"Untamed is very captivating and I found myself racing through it… I think the author did a fantastic job with this novel. Although we don't find out much about Seven's world and why it is in the state it is, the imagery Madeline has created is brilliant. I had a vivid picture in my head of the characters and their surroundings." – A Secret Book Lover
"If you're interested in dystopian fiction and want a series that will draw you in, UNTAMED is a great start. It will grab you from the first line and force you to read to the end because you have to know what happens. I'm looking forward to the next book in the series" – Heidi Sinnett, author and librarian.