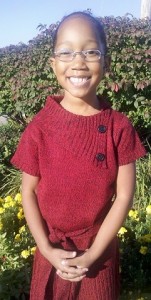 What exactly  do you write? (Fiction? Genre? Novel? Short story? Series? Technical or nonfiction? Articles? Reviews?)
I write short kids books for early readers. My books have a lot of facts with some imagination put in!
How would you describe yourself in a short third person bio?
Abigail Brand is the 6 yr old (almost 7 yr old) author and illustrator of the Hello Little Series. She has published 3 books in the series, including a Spanish translation of her first book. Abigail donates half the money from the Hello Little Series to NICU hospitals.
What made you initially want to write? Has your motivation changed since then?
I've always loved to write. I like being creative and making up stories. I started writing books when I was 4 because I have so many ideas and dreams that I like to write them down.
What do you think is the most important part of writing?
I think the most important part of writing is details because you really need to help the reader get a picture in their head. What if I just say "a cup"… Is it a big cup or a small cup? What color is the cup? Is there anything in it? Who does it belong to? The reader needs more details.
Tell us an interesting fact about you.
I'm really interested in chemistry!
Do you prefer a physical book or an ebook? Why?
I haven't really read many ebooks, but I prefer a real book. I like the story and the pictures, but I also really like holding a book and turning the pages.
Are you a self-published author/indie author or did you go down the 'traditional' publication route? Why?
All my books are self-published. I don't know how much it would be to use a publishing company, but since half the money is donated to the NICU, I don't think I would be able to pay them also. And I didn't want to have to wait for the publishing company to make a release date… I just wanted to release it right away. So my mom helped me publish it myself.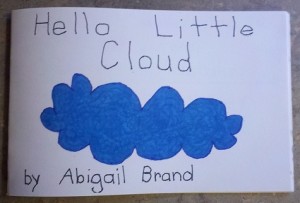 Tell us a little about your Hello Little series.
The name "Hello Little" is inspired by my little sister, Gabrielle. I used to call her "little" as a nickname when she was a baby. And I donate to the NICU because my baby sister, Natalie, had to get some tests by the NICU when she was born. So far, the Hello Little Series is about nature topics. I really like nature and I always have the most ideas for stories about nature.
And you donate half the money to NICUs? That's excellent!
When my baby sister was born, in January 2011, the NICU had to come and do some tests on her. She was fine and I started asking my mommy questions about what the NICU does. She told me about premature births and low-weight babies. I really wanted to help. On December 2011, I donated $415.50. My next donation is set for June 28. I can't wait to show everyone how much I've raised this time, but I'll tell you that it's more than last time!
So, how long does it take you, on average, to complete a first draft?
I always have so many ideas going through my head and sometimes I even write whole stories in my head before I can get to a piece of paper. But usually the first draft takes me about 1-2 days.
Which projects are you working on at the moment?
Right now, I'm still working on my 3rd book in the series, Hello Little Zoo. It will be my 4th published book because of the Spanish translation of the first book. I finished the story for Hello Little Zoo and now I'm doing the artwork for it over the summer. I want to have it ready to publish in the beginning of September. I'm so excited about it because the art is very different then my first two books!
And you're still at school at the moment? How easy do you find it to allocate time for your writing?
It's summer vacation now, but I definitely find time to write even during the school year. Whenever I have any free time, even 10 minutes, I sit down and write. I just love it so much. My brain is always bursting with so many ideas, I have to get them out! All the way up until mommy says it's time for bed, I'm always doing some kind of project or writing!
How has writing changed your life?
Well, I'm only 6 … almost 7

… my birthday is June 30! So I don't know if it's changed my life, BUT I just won a Kohl's Scholarship award for my work to raise money for donations to my community! It was so exciting when I got the award! And also, I've been invited by The Author Project to be a special guest speaker at their writer's conference in New York in September! I can't wait!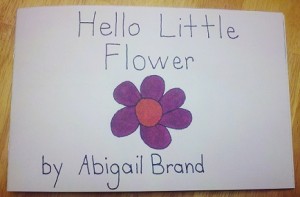 Where do you get inspiration for writing from? Do you listen to music whilst writing or have a 'writing cave'?
I get lots of inspiration from nature. I love all the colors and the smells and the noises. I spend a lot of time outside, but then once I come in the first thing I do is get a paper and pencil. I don't have a special place I go for writing. I just get my notebook and sit at the kitchen table or on the porch or at my homework table. But I can concentrate on my writing even if there's noise going on because it's so important to me!
Is there a particular form, style or genre that you'd like to have a go at writing? Why?
I'm still working on one of the books I started when I was 4. Over the years, I keep adding to the story and changing the pictures. Since I started writing for the Hello Little Series I've only worked on that book a few times. I think about it a lot and now I think I want to turn it into a chapter book. I think it would be really cool to publish a chapter book.
Favourite book(s) and/or author(s)?
My favorite author is Shel Silverstein. I've read all his poem books. His poems are thoughtful, funny, and descriptive. I love how he uses so many different words.
What would you say to those who want to become a writer? Any advice?
If you want to write, just do it. Just write. Don't worry if it's not perfect. Just start writing!
email… HelloLittle.Series@yahoo.com