So, I've decided to enter Pitch Wars for the first time, and I'm pretty excited. Other years, I've watched the contest from the sidelines, and this year I thought I'd take the plunge and dive in.
About Me…. 
So, I'm Madeline. I'm 22 and a full-time writer. My favourite place to write is in my shed with my rabbit and guinea pigs running around next to me.
And here's my rabbit, Sidney, offering me some newsprint as inspiration.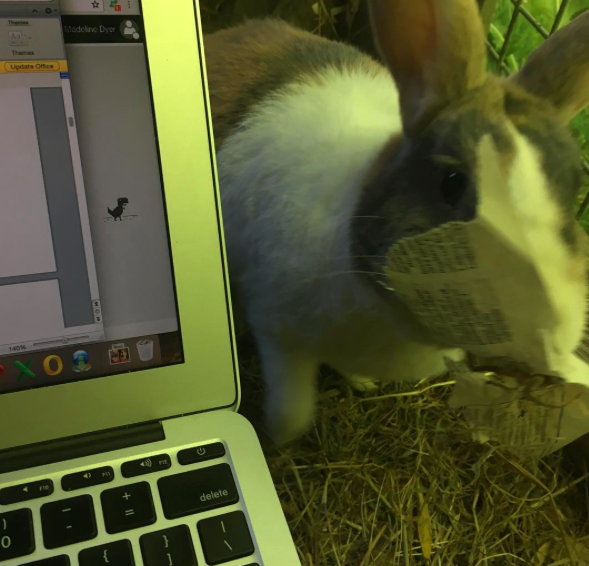 I live in the southwest of England, and in 2016 I graduated from the University of Exeter with BA (hons) degree in English. For my dissertation, I wrote on the relationship between madness and murder in Louisa May Alcott's thrillers. (I've been obsessed with Louisa May Alcott's work ever since I found out that she wrote sensation fiction under a pseudonym, and the recent discovery of her 'lost' novel, A Long Fatal Love Chase, in the 1990s was a dream come true! Incidentally, it was published the year I was born so I see that as a 'sign'!)
Soooooooo, about my writing… Well, I have two loves when it comes to writing: speculative fiction and dark contemporaries/crime. When I was nineteen I signed with a small press and they published my first two novels (both dystopians). At the end of 2016, however, Prizm closed and I decided to independently re-release those two books and finish the series–especially given the second book ends on somewhat of a cliffhanger. The third book actually released a few weeks ago (July 11th!). 
But being traditionally published has always been a dream of mine, and I'm desperate to get back into that world, and I'd love to find an agent.
Other things about me:
I walk really quietly and as such have had many close encounters with wildlife, including coming face-to-face with a puma (twice), tripping over a snake, and discovering a huge fox in very close quarters!
I have a genetic disorder that causes many of my joints to frequently dislocate. The  same disorder can cause me to faint around five times a day too. But before the age of 17, we didn't know I had this–it literally started affecting me over night, and unfortunately I had to give up horse riding, athletics, cross country running, and inline skating as my body suddenly couldn't handle it.
I am fascinated by prehistory. In fact, I'm applying to do some distance learning courses from September 2017 onward in prehistory…
I have a MASSIVE collection of unused notebooks.
About the Book…
So, I'd love to introduce you to my adult science fiction novel, THE IMPOSTER.
THE IMPOSTER (95,000 words) is an adult science fiction thriller set in a futuristic version of the United Kingdom. It's Orphan Black meets SLATED.
As an agent working for the government's top-secret Imposter Replacement Scheme, Natasha Harris is paid to live other people's lives. The assignments are short, the income is great, and imposter agents are highly respected by the rest of the government. But Natasha's posh position doesn't erase the memory of her little sister. Six years ago, on Natasha's watch, Lucy was abducted by a group infamous for illegal genetic modification and faces a lifetime of horrific experimentation. And Natasha knows it's her fault.
On her most recent job, Natasha discovers a hole in the government's monitoring systems: a man exists, who shouldn't. He's not on the government's records, CCTV, or Personnel files. Natasha is sure he's part of the kidnapping network and finally sees her chance to infiltrate the group and save Lucy.
To do so, Natasha will have to face her unwitting role in her sister's disappearance, the truth regarding her own manufactured DNA, and the discovery of how her whole life has been part of a secret double-blind experiment. If Natasha can't save Lucy, her sister's doomed to the caged life of a lab rat, but if she does save her, will Lucy forgive Natasha for betraying her in the first place?
Things I love about this manuscript: 
Natasha's a strong young woman who's confident in her ability to do her job (top secret imposter agent), and she also suffers from PTSD.
The emphasis is very much on the bond between siblings. This whole manuscript is about the bonds between two pairs of sisters and the lengths that these sisters will go to in order to save each other.
Though there is romance, it's not romance-heavy (Natasha's too busy trying to work out everyone's real motivations–and save everyone–to do a lot of other stuff).
Unreliable narrator alert! Plus many other unreliable characters…
This manuscript is also quite light on the science fiction side…though the sci-fi things are there. I'd liken it to Orphan Black in that respect–it's much more about the relationships between the characters than the technology.
Though it is futuristic too. And I love futuristic stuff.
Plus, there's a huge double-blind experiment in the plot too.
Why Choose Me…
This manuscript is so close to my heart; I've worked on it since 2013 and and I absolutely want to make it the best it absolutely can be. And I'm always eager to find ways I can improve my craft.
I've had two books traditionally published by a small press (though I've never had agent representation), so I do know just how much editorial work goes into a manuscript…and I love revising and pulling a manuscript to pieces only to rebuild it and make it stronger.
SaveSaveSaveSave
SaveSave
SaveSave
SaveSave